News
PBS: Chris Isaak Beyond The Sun Live!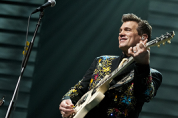 CHRIS ISAAK LIVE! BEYOND THE SUN
June 2012 (check local listings)

The Singer's Most Popular Hits in a Personal Tribute to the Legendary Sun Studio in Memphis.

This new PBS special showcases Chris Isaak in a personal tribute to the glory days of the legendary producer Sam Phillips and his Sun Studio in Memphis and the music created by his heroes (Elvis Presley, Jerry Lee Lewis, Johnny Cash, Carl Perkins, Roy Orbison and others). Isaak recaptures the spirit of the original songs with his own brilliant band of stellar musicians, while revealing the heart and soul of his own deeply rooted musical identity. CHRIS ISAAK BEYOND THE SUN LIVE! is part of special programming premiering on PBS stations beginning June 2, 2012 (check local listings).

CHRIS ISAAK LIVE! BEYOND THE SUN was taped on February 13, 2012, before a live audience of music fans on the soundstage of Austin City Limits, the home of the legendary PBS music series. The three-act program begins with some of Isaak's most popular hits, moves on to his tribute to Sun Records and then wraps up with a combination of both. All in all, it's a celebration of Isaak's own stellar career with some of his best-known and favorite recordings. Chris Isaak's 'Live Beyond the Sun' tour will continue through the end of 2012.

Joining Isaak for this special evening is Rock and Roll Hall of Fame singer and "The Queen of Rockabilly", Wanda Jackson.

CHRIS ISAAK LIVE! BEYOND THE SUN Features these performances:

"I Want Your Love"
"Somebody's Crying"
"Wicked Game"
"Baby Did a Bad Bad Thing"
"I'll Never Let You Go (Little Darlin')"
"Ring of Fire"
"Trying to Get to You" (with Wanda Jackson)
"It's Now or Never"
"Crazy Arms"
"Your True Love"
"Miss Pearl"
"Great Balls of Fire"
"Blue Hotel"
"Fujiyama Mama" (with Wanda Jackson)
"Oh, Pretty Woman"
"Can't Help Falling in Love"
"Big Wide Wonderful World"

PBS special programming invites viewers to experience the worlds of science, history, nature and public affairs; hear diverse viewpoints; and take front-row seats to world-class drama and performances. Viewer contributions are an important source of funding, making PBS programs possible. PBS and public television stations offer all Americans from every walk of life the opportunity to explore new ideas and new worlds through television and online content.

For images and additional up-to-date information on this and other PBS programs, visit PBS PressRoom at pbs.org/pressroom.